We know that everyone has a different approach to these types of adventures, but generally you probably want to sleep well and have no doubts before tackling a multi-day route. We collected all your questions and tried to answer in the most clear way, in order to help you organize this upcoming adventure!
Bike – Tyres – Gears / Quick Bite!:
Quick Bite! Is definitely a route for gravel bikes or eventually MTB with fast rolling tyres. The outline of the route is similar to Seven Serpents but avoiding all the spicy bits 😉
42/45 mm tyres with mixed or fast rolling surface. If wet, some rocky parts can be slippery but we hope for glorious sunshine. We suggest 45mm tyres if you're used to riding only on smooth gravel.
Gearing lighter than 1:1. There will also be some steep bits, pushing the bike for 5 minutes it's no shame and will help you to stretch your legs.
Slovenia will be mostly smooth, entering Croatia the surface will change a bit, then Krk island will be rocky while Cres will mostly be on tarmac. From Istra to the finish it will be mixed but not too rough.
Bike – Tyres – Gears / Seven Serpents:
It's a compromise between gravel, monster gravel or MTB. Some descents are for sure faster with a front suspended bike but generally gravel bikes will be faster on most of the sections. In 2022 and 2023 people that used a MTB generally enjoyed 99% of the route while the ones with gravel bikes suffered a bit on the downhills.
700c/45mm or more – 650b/47mm or more. Knobby tyres might be a good idea.
Definitely a lower ratio than 1:1. You will push your bike on at least 4 occasions. Don't carry too much weight otherwise hike a bike parts will be a total nightmare.
Expect rocky sections in Krk and Cres, don't expect to keep the same average speed for the whole ride, it's a various route and we love that for this peculiarity.
Luggage – Ljubljana:
Ask your hotel in Ljubljana to keep your belongings for the days you'll be riding.
Use a locker service in Ljubljana (https://www.ljubljana.info/facts/luggage-storage/).
Leave your belongings in the car/van if you plan to park it in Ljubljana, but park in a safe place.
Organization will only transport a small bag (of about 10 liters) with no expensive/important stuff inside such as laptops, documents, credit cards, money, or keys. We will not accept big backpacks or oversized languages in Ljubljana.
Luggage – Trieste:
You can drop a bag, bike bag or bike box in Trieste at our place if you're staying/passing by Trieste before the start. We will be collecting those items in Trieste the 3rd of May for Quick Bite and the 9/10 May for Seven Serpents. We expect that people dropping a bag already in Trieste will only drop a very small/light one such as the welcome pack in Ljubljana.
Ask your hotel in Trieste to keep your belongings for the days you'll ride, if you're staying there before the start.
You can use a locker service in Trieste if you're staying/passing by.
We're planning to have some cardboard boxes at the finish.
Start / Registration (To be confirmed)
We are planning to register and start at Park Antona Codellija area: https://g.co/kgs/cThcDj
Quick Bite! Registration is ideally planned between 3pm and 5pm on the 4th of May, start will be the next morning (5th) at 7 am. This timetable will be confirmed a few weeks before the start.
Seven Serpents Registration is ideally planned between 3pm and 5pm on the 11th of May, start will be the next morning (12th) at 7 am. This timetable will be confirmed a few weeks before the start.
Way to/back to Ljubljana
For people who need it, you can cycle or get a train. The quickest way in our opinion is to cycle to the first Slovenian train station such as Sezana or Villa Opicina and get the train to Ljubljana (https://potniski.sz.si/en/). But you can also have a train from Trieste to the Slovenian border (https://www.trenitalia.com/en.html).
Weather and conditions
Expect to have warm days and cold evenings, if rainy it can be wet and cold in the woods and the terrain might turn muddy in some sections. Last year we had a very rainy and windy forecast during Seven Serpents, but the year before we were blessed by sunshine and we even had a swim in Trieste. Checking the weather forecast a couple of days before leaving your place will let you know what's the right gear to bring. There hopefully won't be any snow in the mountains.
What to bring:
Mandatory items
Front and Rear lights.
Helmet.
High visibility vest or similar.
Recommended items
Down jacket or synthetic equivalent.
Rain jacket.
Survival blanket or emergency bivvy bag if you plan to ride until late.
Something warm if you get stuck in cold/wet weather, check the weather forecast two days before leaving.
Chain link, small chain oil, tubes, patches, repair for tubeless, extra brake pads, tape, usb battery pack.
Multi-tool
(Optional) Spare derailleur hanger: if you have one, bring it.
Sleeping system:
Last year almost no one brought a tent, we don't really recommend carrying a tent on the 850km unless it's a very light one. There will be a considerable number of accommodations along the way: in Postojna, Cerknica, Krk island, Cres village and around the small Istrian villages. A bivvy bag and a generally light sleeping system could be the key in the case you want to have a short stop and there's nothing available around. Again, check the weather forecast before zipping your bags.
Track
Preliminary tracks will be sent by the end of March (see other sections), then the final route will be sent a few weeks before the start. It is very important to us to ride and check both routes in spring and reasonably close to the events so we can be (almost) sure that nothing should be wrong in May. Seven Serpent will be similar to the 2023 edition. Quick Bite! will change mostly on the second half.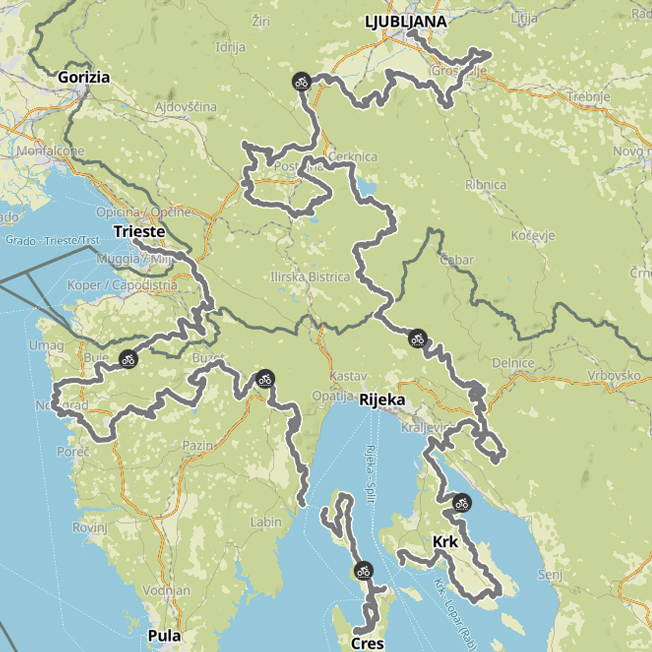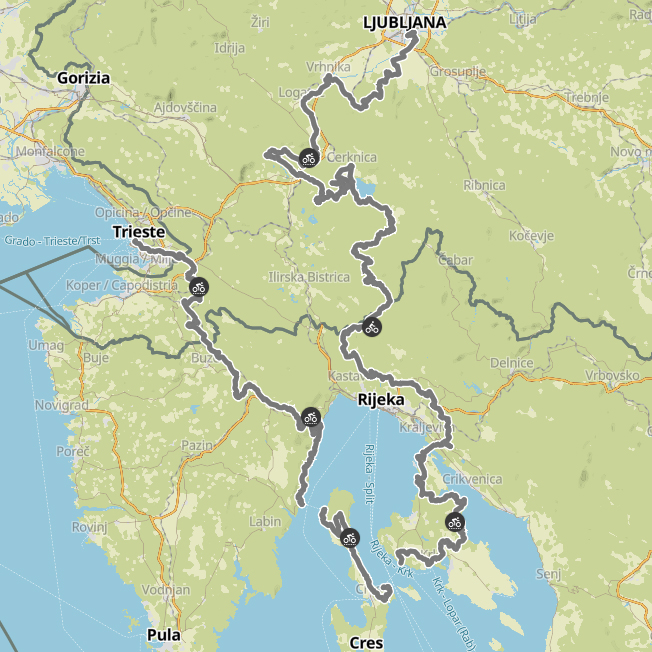 Ferries
First ferry (Krk to Cres):
https://www.croatiaferries.com/valbiska-merag-ferry.htm
Second ferry (Cres to Istra):
https://www.croatiaferries.com/porozina-brestova-ferry.htm
Doctor's note / medical certificate (we will ask you to upload it few weeks before the start)
It's a document made by your own doctor. It says that your health is good for cycling activity.
People with a sport (the one used for competitions) can use that one to participate in any of the Seven Serpents events.
DO NOT SEND ANY MEDICAL CERTIFICATE NOW.
WE WILL SEND YOU A DEDICATED REQUEST FEW WEEKS BEFORE THE START.
Insurance
You must have a valid liability, death, accident and health insurance valid during the event that covers emergency extraction and repatriation insurance.
The organization won't provide any kind of insurance for the event and will not be held liable for any damage whatsoever that may occur directly and/or indirectly to you or other parties.
DO NOT SEND ANY PROOF OF INSURANCE NOW.
WE WILL SEND YOU A DEDICATED REQUEST FEW WEEKS BEFORE THE START.
Remember that none of Seven Serpents events are considered a "race". Those are unsupported bikepacking adventures where everyone who will complete the route will achieve its own victory.
You can find several "travel/sport" insurances online that will cover you for a week or a year for quite a cheap price.